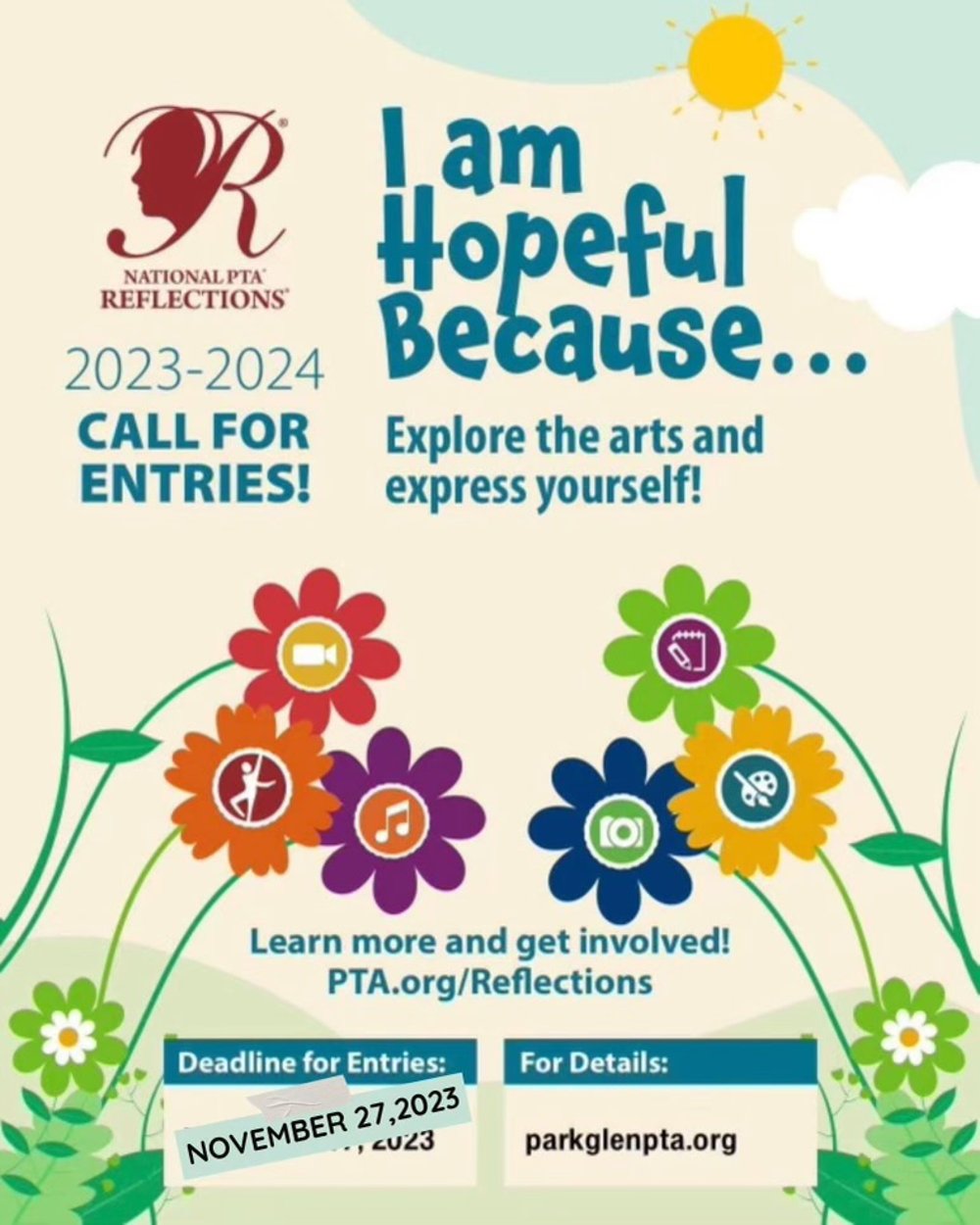 ABOUT ARTS IN EDUCATION
THIS PROGRAM IS AMAZING FOR KIDS BECAUSE THEY CAN EXPRESS THROUGH DIFFERENT ART CATEGORIES, THEY RECEIVE AWARDS FOR SUBMITTING AT THEIR SCHOOL LEVEL, ALSO THEY CAN MOVE TO DISTRICT LEVEL, STATE LEVEL AND EVEN NATIONAL.

Park Glen Elementary PTA believes all students deserve the opportunity to take part in the arts, both in school and in the community. The arts can positively affect entire school culture- especially student motivation, attitudes, and attendance- which encourages students to stay in school, succeed in school, succeed in work and succeed in life! We are committed to ensuring that every child has access to- and takes part in- high quality arts learning experiences.

Reflections
Calling all PGE Cheetahs!

Do you like to dance, sing, write, create music or videos, take photographs, or create works of art? This is your opportunity to show your creativity!

Students of ALL ages and abilities are encouraged to create and submit original works of art in any of the following categories:

Dance Choreography
Film Production
Literature
Music Composition
Photography
Visual Arts
Special Artist Division (STACC Students)

Each year, over 300,000 students in Pre-K through Grade 12 create original works of art in response to a student selected theme. This 50+ year-old program helps them explore their own thoughts, feeling and ideas, develop artistic literacy, increase confidence and find a love for learning that will help them become more successful in school and in life.

General rules and entry forms are available on this page and on the PTA Reflections Table located in the main hall at school.

You may submit your entry directly to your teacher or place them in the Reflections drop box PTA Reflections Table.

Entries are due by November 27, 2023. For more information, please contact Jennifer Daniels at [email protected].

Please click on the links below to download a printable copy of the entry form and category rules:

Student Entry Form: 23-24 Student Entry Form_TXPTA.pdf
General Rules: 2023–2024 NATIONAL PTA REFLECTIONS PROGRAM (txpta.org)
Arts Categories Rules: 23-24 Reflections Single Page Rules.pdf (txpta.org)